Gates of the Arctic National Park
The Gates of the Arctic National Park is one of the prime destination for a hiking trip in Alaska's Brooks Range, the northernmost mountain range in the state of Alaska. It's hard to get much more remote. The one road that bisects the range is the Dalton Highway, better known to Alaskans as the haul road. It was constructed to build and service the oil fields of the north slope.
Because the Gates of the Arctic is one of Alaska's most remote parks it's a bit more expensive to do a trip there. One must fly to Fairbanks then to Bettles and from there on finally to your wilderness drop off destination. But all that flying (and extra cost) is well worth it to enjoy a wilderness adventure in this lightly travelled and remote corner of Alaska. If you are looking for a trip of a lifetime in an ultimate Alaskan hiking trip then you can't do better than Gates of the Arctic.
In the early 1930s Robert Marshall found his wilderness home - a remote, uncluttered source of inspiration that would make him one of America's greatest conservationists. The Gates of the Arctic was the ultimate North American wilderness.
You can access the park out of Coldfoot on the Dalton or fly into Bettles which is a tiny gateway community where many backcountry adventures begin. Trek Alaska utilizes Bettles as the point of departure for our treks in the Brooks Range.
Climb practically any ridge in the heart of the park and you'll see a dozen glacial cirques side by side; serrated mountains that cross the sky; and storms that snap out of dark, brooding clouds. Six National Wild and Scenic Rivers—Alatna, John, Kobuk, Noatak, North Fork Koyukuk, and Tinayguk—drain out of high alpine valleys into lowlands of boreal forest. The entirety of the park lies above the Arctic Circle.
"No sight or sound or smell or feeling even remotely hinted of men or their creations," wrote Marshall. "It seemed as if time had dropped away a million years and we were back in a primordial world."
An ulitmate destination for some unique Alaska hiking trips.
Treks in Gates of the Arctic National Park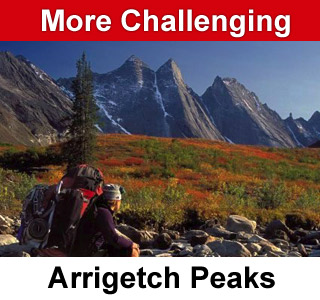 8 days trekking
Backpacking
Explore one of the most stunning spots in Alaska's Brooks Range. The Arrigetch Peaks will leave a lasting impression. A challenging backpacking trip so you need to be ready. The payoff for the rugged hiking terrain is the chance to get up close to the unique granite spires of the Arrigetch bowl.
$3895.00/person
»
see details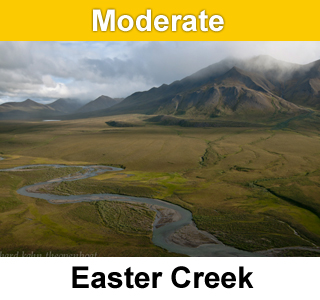 6 Days
Backpacking
A new addition to our Alaska lineup. Enjoy an Alaska backpacking trip in remote solitude in the Brooks Range. We have the freedom on this trip to do lots of backpacking or mix it up with some day hiking and exploration. Remote doesn't have to mean hard-core.
$3450.00/person
»
see details