Alaska Backpacking Trips
Experience true solitude on these remote Alaska backpacking trips into seldom visited wilderness. Many of the backpacking trips we offer were first pioneered by Trek Alaska. No one knows these wilderness routes like we do. Our deep knowledge of the Alaska backcountry led to the publishing of the definitive guide to hiking and backpacking in Wrangell St. Elias National Park by Falcon Books. We are focused on your Alaska wilderness experience so we keep our groups small - usually with 4-5 participants and a guide. Guided groups of twice that size are not unusual in the industry. This is an overview of all our guided backpacking and base-camp trips for the coming season. If you are only interested in a particular Alaskan park, see our pages for Wrangell St.Elias National Park, Lake Clark National Park, Gates of the Arctic, Denali State Park and the Talkeetna Mountains High Country.

Some trips appear under multiple headings because they can be done as an easier or more challenging trip depending on the group. Click on a thumbnail to see a trip detail page.
Easier Backpacking, Base Camp and Family Trips
Good for all ages and abilities, families with small children, first time campers, or those wanting an easygoing trip.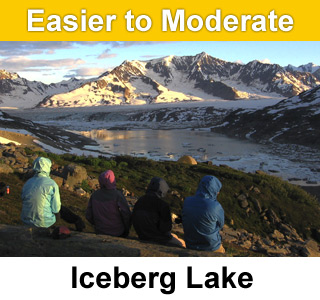 Stunning and dramatic terrain with hanging glaciers, icefields, glacier hiking, ridge walks, alpine lakes, moderate scramble summits. A classic Alaskan valley and ridge-line for moderate backpacking and exploration.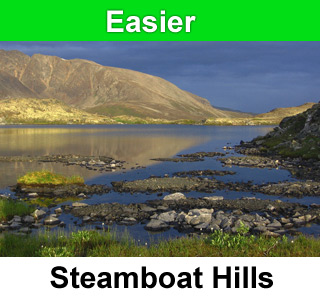 Alpine Alaskan lakes nestled amid rolling tundra and easier terrain make it a more laid back choice - also a great family spot. Usually done as a base camp or hybrid trip with some backpacking and some day hiking. Enjoy the fantastic scenery with more moderate hiking.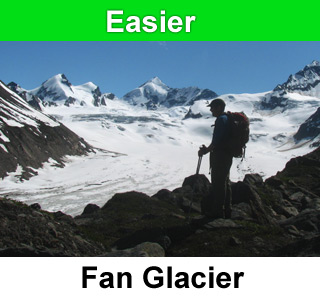 Ideal for folks with no backpacking experience as we usually set a base camp and do some day hikes on the Fan Glacier and alpine ridges with stunning views. This area of Alaska gets little snow making it a great early season hiking destination.
Moderate Backpacking Trips
Anyone in good condition will do well on these routes.
More Challenging Backpacking Trips
Best for those with some backpacking experience. You should be in good shape and up for some challenges along the way.
Extremely Challenging Treks
Experience is required and you need to be ready for a very serious challenge.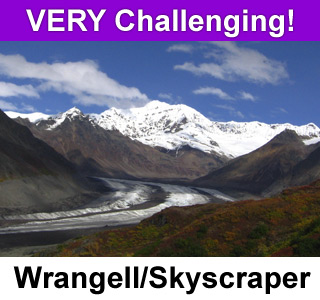 An extremely challenging Alaska backpacking trip that is recommended only for those with backpacking experienced and preferably experience on Alaskan routes. Very rugged and steep terrain but the reward is the chance to see Alaskan country that only a handful have travelled. One of the only routes that passes through the rugged Wrangell range. Private groups only. A great capper to a wilderness travel career.